ATI TEAS Exam For Nursing Review Guide 2022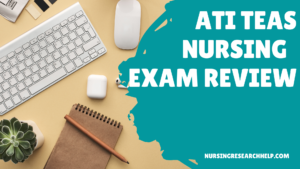 The TEAS exam is a standardized test covering English, math, and science that is required by many nursing programs. It is administered at several locations throughout the United States. Testing dates are typically listed in the program's catalog. The exam may be given electronically or in pencil and paper format. To take the exam, candidates must first create an account on the ATI website. During the exam, they will be asked to provide the information they created in their account.  Let us have a look at ATI TEAS Exam For Nursing Review Guide below.
TEAS test covers math, reading, science, and English
The TEAS test covers a wide range of topics, including physical and life sciences. The test also tests students' ability to apply scientific reasoning to real-life situations and to understand the human body. Questions can range from those focusing on word structure to those requiring them to apply the knowledge they've learned to a specific situation. In addition, the questions can also focus on a single word or detail. For this reason, it's important to understand the material before taking the TEAS.
A high TEAS score can make a nursing application more appealing to admissions officers. When combined with good recommendations and a solid GPA, a high TEAS score can help you stand out from the competition. Students should focus on learning the terms and concepts on the TEAS test, as well as brushing up on the vocabulary and grammar in general.
TEAS is an standardized test used by many nursing schools to gauge students' knowledge of math, reading, and science. TEAS also includes a section for writing, which covers punctuation, grammar, and contextual words. The TEAS test covers math, reading, and science, which is why students should take a study guide before taking the exam.
The TEAS exam is usually the last step in the application process for nursing schools. It helps schools weed out applicants who do not have the skills to be a successful nurse. Taking the TEAS exam is crucial for your chances of admission, especially if you have a lower GPA.
ATI TEAS test is a standardized test
The ATI TEAS exam for nursing measures a student's readiness to attend nursing school. Its data is beneficial to nursing schools, which use the results as part of the admissions criteria. Nursing schools and students alike want to have a successful educational experience, and they want to make sure the students they enroll in get the best education possible.
The TEAS nursing standardized test consists of 170 multiple-choice questions that measure basic academic skills. While there are several ways to prepare for the exam, ATI Nursing Education recommends its SmartPrep preparation course, which includes 65 lessons and over 650 practice questions. The course also comes with a printed TEAS Study Guide.
The TEAS exam for nursing is administered at multiple testing locations throughout the U.S. including nursing schools, community colleges, and specialized testing centers. The test may be given in a computer-based format or on paper and pencil. Before taking the test, candidates must create an account with ATI to access the information they need to complete the test.
The TEAS exam is a timed, multiple-choice exam. Students cannot change their answers and must complete the exam in a specified amount of time. The TEAS exam is one of the many challenges you'll face when you're trying to become a registered nurse.
TEAS test is a requirement for many nursing programs
One of the biggest mistakes students make when taking the TEAS exam is not reviewing the topics they are being tested on. It is imperative that students start studying as early as possible. This will allow them to become familiar with the content and answer any questions in the best way possible.
Many nursing schools use the TEAS exam to assess the academic capabilities of their applicants. It is a standardized exam that assesses reading comprehension, basic math skills, and science. A subtest for English grammar and punctuation is also included. It is essential for nursing applicants to score high on the TEAS if they hope to get into a good nursing program.
The TEAS exam is timed and there is no room for mistakes. The exam is extremely difficult, but it allows nursing schools to choose the best students based on their scores. This exam will be one of many challenges you will face as a prospective nursing student.
Although the TEAS exam is not a requirement for many programs, a high score will increase your chances of admission. Combined with good recommendations and a good GPA, a high TEAS score will help your application stand out. You should check with the top programs to find out how many students have passed the exam.
TEAS test results
If you have taken the TEAS exam and are considering pursuing a career in nursing, you may be wondering what your scores mean. While high scores may indicate that you're capable of working in the medical field, they're not a guarantee of acceptance into a nursing program. Rather, they reflect how well you've studied in the health sciences. If you've received a low TEAS score, there are other options that may be better suited for you.
First, you should note that TEAS exam results are provided instantly to nursing schools. However, some universities may take a few days to provide your score. You can contact the school to confirm if this is the case with you. Also, keep in mind that you cannot use a calculator while taking the TEAS exam. Instead, you can use a desk calculator or a calculator on your computer.
Another way to avoid a bad TEAS score is to make sure that you take it more than once. The TEAS exam has 170 questions, of which only 150 are scored. The other 20 are for internal use. As such, you should not try to get a perfect score on the first try.
Most nursing schools require students to take the TEAS exam, which evaluates their academic skills. This test covers a range of topics including science, reading, math, and language usage. The exam is administered by the Assessment Technologies Institute LLC and can determine how well a student is prepared for a nursing career. Moreover, it can help you determine which nursing school you want to attend.
TEAS test review guide
The TEAS exam is the first step in the process of becoming a registered nurse. It requires a high level of confidence and academic knowledge. This review guide is a good way to prepare for the exam. It also includes practice tests. Each test has different questions that require the candidate to understand different aspects of the material.
The minimum passing score varies depending on the nursing school and program, but generally, a TEAS score of at least seventy percent is needed to secure admission. The TEAS exam score is broken down into three components: the Content Score, Total Score, and Sub-Content Score. These three components contribute to the total score, which is used to evaluate whether a student is ready for nursing school. Those who earn an average score of 80% or higher are generally considered advanced candidates and are more likely to get into competitive programs.
A good TEAS exam review guide will provide study materials for all subjects and test taking strategies. It also has two practice tests, which help prepare students for the real test. The review guide should also contain detailed answers and explanations of the answers, making it easier to learn and remember the material.
As nurses, we deal with numerical data and mathematical computations every day. Having a solid grasp of these concepts will help you perform well on the TEAS. As such, nursing schools will look for evidence that you have a strong grasp of these subjects.
Studying with a study group
A study group can be a great help when you're trying to meet weekly study goals. It is helpful to have people with a variety of strengths and weaknesses in the group. This balance will allow everyone to develop their knowledge at the same time. Group members can also share study tips with one another and tutor each other.
It's essential to get as much practice as possible. Taking practice exams before your test will make you more familiar with the topics on the test. You should also prepare yourself mentally the night before the exam. You may be nervous, but eating a nutritious meal will help you stay alert and focused on the exam. In addition to that, a good night's sleep will help you stay sharp.
Lastly, it's important to remember that you should take the exam slowly and deliberately. The TEAS exam is a timed exam, so taking the test too quickly may make you miss important concepts. Taking it slowly and in small sections can help you learn more.
Another great benefit of joining a study group is that you'll have a friend to go over test questions with. This way, you'll be more confident about answering questions. Then, you'll also know what to expect from the exam. Studying with a study group can also make the test experience more fun and less stressful for you.
https://nursingresearchhelp.com/wp-content/uploads/2022/07/nrhlogo.png
0
0
Ms. Dee
https://nursingresearchhelp.com/wp-content/uploads/2022/07/nrhlogo.png
Ms. Dee
2022-10-20 08:52:15
2022-10-20 10:20:29
ATI TEAS Exam For Nursing Review Guide 2022